University Village
2621 NE 46th Street
Seattle, WA 98105
206.525.0958
http://dintaifungusa.com/
I grew up in a time and place where "ethnic food" meant Chicken Chow Mein at the only Chinese restaurant in town, a place which also served burgers.  That's why—when I find myself at a place like Din Tai Fung picking up the sweetest vegetarian Taiwanese dumpling on earth in my chopsticks, dipping it in a tasty ginger/soy/vinegar sauce, and popping it in my mouth—I feel lucky.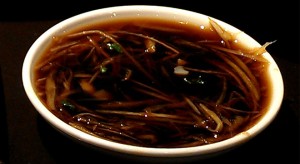 And make no mistake here:  these aren't just any old dumplings.  So light they might float from their steamer basket, these dumplings are plump with their spinach and tofu-stuffing and so delicious that you think about them days later.  Dumplings aren't the only wonderful things to eat at Din Tai Fung.  There are spareribs, katsu, fried noodles, broccoli (or green beans or spinach) with garlic, and delicious mango smoothie/slushes, along with a wide range of other choices—all of them yummy.
I recommend that you order more than you can eat so you can take the leftovers home.  When you do, the waitstaff—all of them kind and attentive—will pack the leftovers in a beautiful little bag.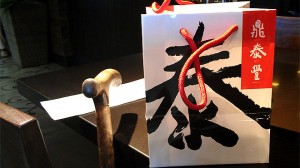 When you open that bag, you'll find your leftover dumplings inside along with little containers of soy, ginger, and vinegar, so you can re-make the dipping sauce.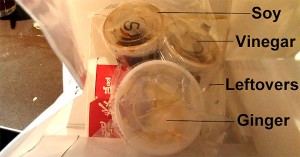 This kind of attention to detail at Din Tai Fung is completely accessible to all.  Easy parking, spacious passageways between ample tables, and a perfect bathroom make this restaurant a delicious choice for wheelchair travelers.